Fuji P.S Corporation / Industries
Wi-Fi that enables remote presence in an environment exposed to dust, wind, and rain
Needed Wi-Fi infrastructure that could withstand dust from concrete manufacturing, wind, and rain, and determined that PicoCELA's products were the best solution.


Company: Fuji P.S Corporation
Product used: PCWL-0410
Type of business: Construction
Interview
Fuji P.S Corporation
Takashi Shinohara
General Manager, DX Promotion Section, Administration Department
Kenta Kojima
Supervisor, Information System Group and Business Improvement Group, DX Promotion Department, Administration Department
We construct and repair bridges, produce building components, and perform seismic reinforcement work
Shinohara: We use prestressed concrete-based techniques to construct and repair bridges, as well as to produce building components and perform seismic reinforcement. Specifically, in civil engineering, we construct new bridges such as road bridges, railroad bridges, and marine bridges. We also repair and reinforce bridges, such as after disasters or when performing large-scale renewal work. Our primary customers for these projects are the Ministry of Land, Infrastructure, Transport and Tourism, local governments, NEXCO, and JRTT, among others. In construction, we deal with precast concrete plates for building floors and seismic reinforcement. We also manufacture precast concrete components for buildings at our plants.
Our Technical Center Iwaki Lab began full-scale operations in October 2021. It's currently performing R&D on techniques for controlling river erosion using precast concrete sheet piles. This research project was commissioned by the Ministry of Land, Infrastructure, Transport and Tourism to address the frequent disasters resulting from heavy rainfall in recent years. In addition, in environment-related fields, we're promoting the development of technologies such as hybrid towers for offshore and onshore wind power generation.
Where are you using PicoCELA products?
Kojima: We installed PicoCELA's devices in our concrete product manufacturing plants. Installation began from November 2020 at our Tohoku
Plant in Fukushima Prefecture and Mie Plant in Mie Prefecture, and most recently at our Kotake Plant in Fukuoka Prefecture. We have six factories in total, and PicoCELA devices have now been installed in three of them.
Our plants are specialized environments for the production of concrete products. They are large sites with crane equipment and trucks traveling around them. In addition, we have on-site offices there for production planning, quality control, etc.
Before installing PicoCELA's devices, network access was only available in the offices. Routing was used to allow access to our company's internal environment from office computers. When working outside the office, each employee used a borrowed smartphone, but use was limited to things like phone calls, SMS, and messaging apps such as Line. Data and drawings required for production were paper-based. When data, such as records, needed to be input, staff had to return to the offices each time.
What made you reconsider this prior setup?
Kojima: Our company was concerned that if there were an outbreak of COVID-19 at our plants, it would cause significant business continuity issues. So, we needed to change things to prevent infection among staff members.
We decided to first focus on our Tohoku plant, identifying all items commonly used or touched by personnel that might spread infection. We wanted to automate or digitize these items as much as possible.
The items we identified included drawings and other paper materials used on-site and the binders used to store them. We decided that each person should be able to check them on their tablet using an app, so a network infrastructure outside of the offices was essential.
What were the prerequisites for this network, and what made you choose PicoCELA's products?
Kojima: Since our concrete products are manufactured outdoors, there's a lot of dust, and the sites are exposed to wind and rain. So, any product we chose needed to be able to withstand these extreme conditions.
In addition, the plants are located on large sites, and we wanted to eliminate network cabling as much as possible for safety reasons, so we decided a mesh network would be a good choice.
However, there weren't many mesh-type products available, so it was challenging to find the right product.
We chose PicoCELA's products after learning they were being used in the Tenjin Underground Mall in Fukuoka Prefecture. Although the environments differed, the fact that PicoCELA's products were proven to work across wide areas with many users moving around gave us confidence.
Did the installation go smoothly?
Kojima: After the antennas arrived at the Information System Department, we set them up while watching a tutorial on the setup procedure. It seemed to go very smoothly.
Although the plants needed new electrical cabling, they already had power supplies installed throughout. So, although it took some time to get everything in place, there were no significant problems.
Ultimately, we produced a network infrastructure that could be used throughout the plants.
Have there been any changes at your work sites since introducing PicoCELA's products?
Kojima: We started this project to eliminate paper, but plant staff keep coming to us with new use cases, so these products are also helping improve productivity.
One common use case is inspections via Zoom, Skype, or Teams.
Typically, during the product manufacturing process, every customer visits the plants several times to conduct on-site inspections. However, COVID-19 means travel restrictions are in place, so we've had more requests for remote inspections.
Improving our network infrastructure has enabled us to address these requests and respond to the Ministry of Land, Infrastructure, Transport and Tourism's push for remote presence-based solutions.
We're also constantly being asked if there are more efficient ways to do things or use the tablet apps differently. The company was already making efforts to improve productivity and efficiency, and we feel that installing these products has had unexpected positive benefits in this regard.
Utilizing PicoManager®
Kojima: We've seen unexpected benefits from networking our plants, but the three other plants still lack this infrastructure.
We'd like it if you could give us more information to help our plant users use PicoManager® more effectively, such as for analysis.
PicoManager®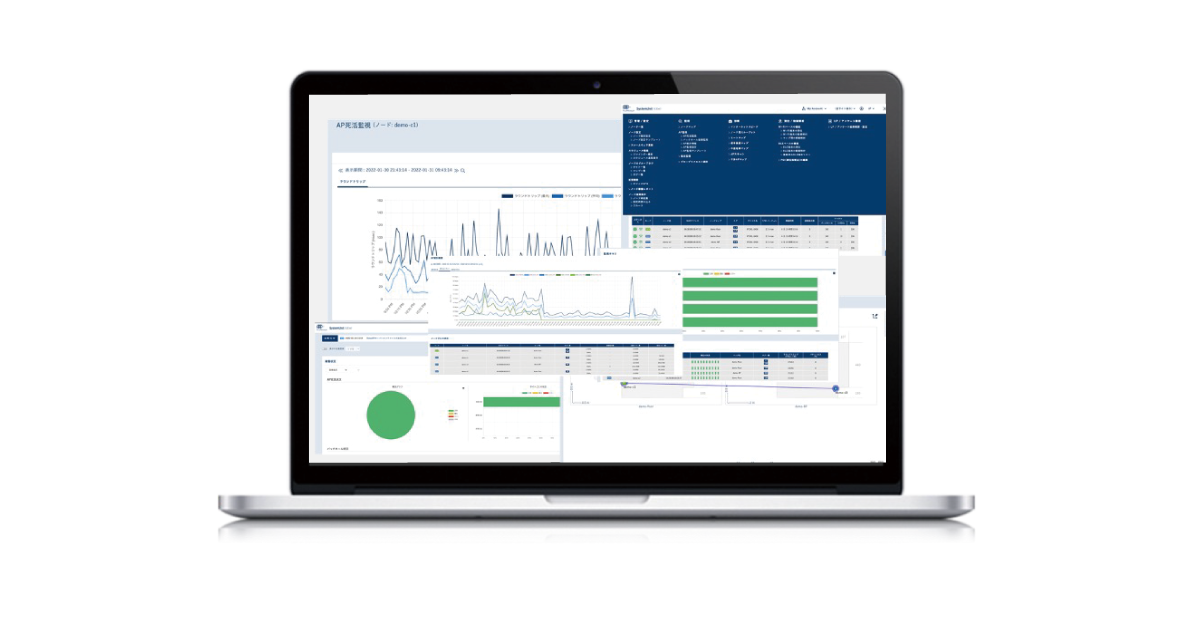 PicoManager® is a cloud management tool that creates added value beyond simple management functionality and works with various PicoCELA devices equipped with PicoCELA's wireless backhaul technology. It allows you to maintain and manage a variety of PicoCELA devices. However, the true benefit of PicoManager®'s is its ability to provide high-value-added services beyond maintenance and management.
PicoManager®